Select Just What Meets Your Priorities
As a modern organ transplant center, perhaps you have made investment in a software system that has served you well all these days. We understand that switching to a new system is always a difficult choice for a hospital. The challenge is to manage the transition to a new system well. It is important to balance the need to devote resources for the new system and at the same time not to compromise current running of the transplant center. We understand this and have evolved a strategy that lets you choose the implementation path that works well for you.
Complement Your Existing Transplant Software Solution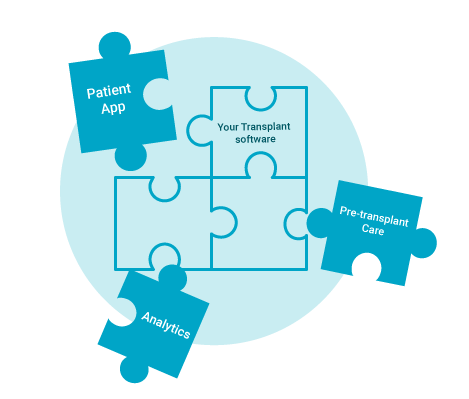 If your current transplant solution is serving you well for the routine and administrative tasks, perhaps you want to keep the current functioning as it is. No Problem. We can do a gap analysis and suggest you only those  modules from myTransplant  that are complementary to existing functionality. This will help you improve your patient care and help in achieving the pre-transplant composite metric (CMP) scores. Perhaps you can start by implementing the transplant patients app. This will give you a jump start in your journey towards patient-centered transplant care.
Totally Replace Existing Transplant Software
Your transplant software has served you well for last few years. However you have realized that it has now reached a  point of no returns. It needs to be replaced totally. No worries, myTransplant  has the shortest possible implementation cycle, we can get you started in a few of weeks not months. We also support phase by phase implementation, so at no point in time there is a disruption of the services in your transplant center. We can  help to migrate your existing  transplant database to myTransplant database and can recreate interfaces to the hospital EHR/EMR or other relevant systems. The current reports and dashboards that are part of your normal workflow would also be delivered a more effective way.