Direct Data Integration From Multiple EHR sources
A transplant patient is likely to be treated at multiple places, the transplant center and the hometown where the patient goes for regular followup before and after the transplant. Patients health records could be at multiple places. In order to have a correct view of the patients status all of the data need to be available with the transplant center at all times. We ensure data interoperability and have several mechanisms in place in our software.
FHIR and SMART
SMART and FHIR are the latest industry standards that facilitate real time data exchange in a standard format. For hospitals that use EHR/EMR systems that expose data via the FHIR, we offer plug and play connectors. Interoperability is delivered straight out of box.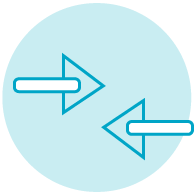 Custom Interfaces
We understand that EHR/EMR are systems very integral to the working of a hospital that hosts the transplant center. There is a dependency in the data and in working practices, both difficult to replace overnight. We offer custom interfaces specially designed to pull data from these legacy system, transform it to the required format and load it in the transplant database.